Welcome to Bewicke Medical Centre
Bewicke Medical Centre has around 10.000 patients on their list and covers the Howdon, Willington Quay and Part of Wallsend area. The surgery has 6 partners and 2 salaried GP's. The surgery is also a training practice and has 2nd year foundation doctors and 3rd , 5th year medicals students each year.
We are confident that our website will provide clear and concise help and give our patients the information they require in an easy and convenient format. It has been designed with the patient's needs at the forefront of everything, from checking surgery times to letting us know what you think of us.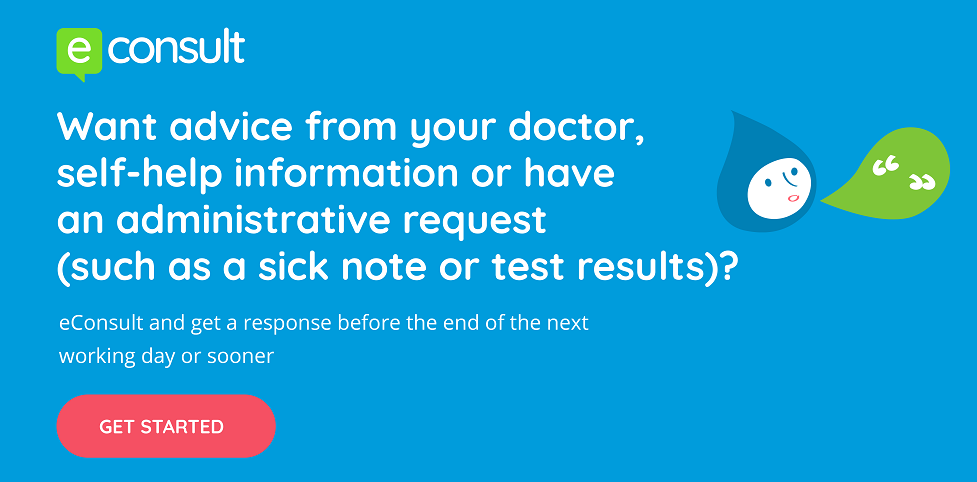 To Order a Repeat Prescription online
To request a repeat prescription online click on the Prescription Icon above and select order online option. For fitnotes you need to self certify for the first 7 days and if you are still unwell you can then order a fitnote via eConsult below. Repeat Medication requests can not be ordered via e Consult. You cannot order medication via e Consult this is only for Fitnotes
Video GP Service - Livi
The practice now offers a video GP service- Livi- to all our patients. To access the service, simply download Livi from the App Store(iphone) or Google Play (Android), and sign up. You can get medical advice, prescriptions and referrals by video, with appointments available on the same day, even at weekends.
Monday- Friday 7am-10pm and Saturday and Sunday 8am- 4pm.
Get the app https://bit.ly/2CFrjNg
Important Information about Appointments during the Corona Virus
All appointments will be made by telephone initially. The doctor/nurse will call the patients first and then make a decision if the patient needs to come down to the surgery.
The practice would appreciate if patients can be understanding towards staff during this difficult period as it is the safety and welfare of both staff and patients to minimise the spread of infection.
The surgery is not doing fit notes for isolation period please visit the NHS 111 online to download a isolation note.
Please use eConsult above if it is non-urgent and can wait for a response the Doctors and staff at the surgery would appreciate it during this challenging time.
Please think sensibly before ringing the surgery and please be kind to staff as we are extremely busy. For all advise on Covid-19 please do not ring the surgery visit NHS 111 online.
Please ensure you wear a face mask / covering if asked to attend the practice for an appointment
COVID-19 Vaccination Programme
As part of the national roll-out of the COVID-19 vaccination programme, we are working closley with NHS and local authority colleagues to plac how this will be delivered and it is not expected to be widely available until 2021. We will ensure that those who need it most will be able to access vaccinations as soon as they are available. Rest assured that invitations will be sent out to eligible people at the right time.
Please do not call the GP practice about the vaccine, it prevents other urgent calls getting through.
Please check the practice website for updates.
FaceMasks
Change in rules regarding face coverings
It was announced on 14th July that from July 24th 2020 everyone is required to wear a face covering when entering a shop or business.

This is in addition to wearing one on Public Transport which has been mandatory for some time now.
GPs are unfortunately not in a position to provide individual risk assessments or letters for patients who feel that they should be exempt from wearing a face mask.
The government guidance on exemptions suggests there is no requirement for evidence for exemption therefore it is sufficient for an individual to self-declare this.
Government advice on the use of face coverings can be found here:
https://www.gov.uk/government/publications/face-coverings-when-to-wear-one-and-how-to-make-your-own
https://www.gov.uk/guidance/coronavirus-covid-19-safer-travel-guidance-for-passengers#face-coverings
Some people don't have to wear a face covering including for health, age or equality reasons. Some transport staff may not wear a face covering if it is not required for their job.
We have put a document on our website called Face Mask Exemption Card. Feel Free to download and print this out if you want.
Help the fight against COVID-19
The PRINICIPLE trials aim to find treatment that reduce hosiptal admission and improve symptoms for people with COVID-19 for more information to take part in the trials please visit www.principletrial.org
Get fit in your own front room.
People in Tyneside are set to benefit from a new exercise programme being launched this week.
Over 317,000 households across Gateshead, Newcastle and North Tyneside will have the new HowFit (Home Wellbeing and Fitness) Plan instructional leaflet delivered to their homes free of charge this week. The Plan is designed to help people improve their fitness and health during the Covid-19 pandemic.
With the aid of a brand new website, HowFit encourages users of any ability, from chair based to fairly fit, to undertake a plan of simple exercises that can be carried out at home without the need for any special equipment. The programme was created by local Consultant Physician, Dr Steve Parry, who developed HowFit with a personal trainer and professional physiotherapists.
Dr Parry said: "Being at home for a long time during the Covid-19 pandemic means that few of us have been getting the exercise that we used to. Even before the Covid-19 virus hit, not enough of us were getting the exercise we needed to stay as fit as possible. "
"Regular exercise carries a number of important benefits, which have never been more important than during the pandemic. However, I realised that there are very few exercise programmes for people to carry out in their own home and even fewer that are suitable for people who are unfit or who have difficulty mobilising. Individuals can choose the level that best suits their level of fitness and create their own plan."
"HowFit has been designed to include exercises of varying difficulties, meaning that it is suitable for adults of any age, whether you currently exercise or not and without the need for any special equipment. The accompanying website has videos to show you how to do the exercises too."
HowFit has been created in partnership with NHS North Tyneside Clinical Commissioning Group (CCG) and NHS Newcastle Gateshead CCG.
Dr Richard Scott, a North Tyneside GP and Clinical Chair of NHS North Tyneside CCG said: "We are delighted to be involved in the development of HowFit and recognise the benefit it will bring to people in North Tyneside.
"As well as making you feel happier and healthier, exercise can cut down your risk of developing medical issues such as type 2 diabetes or high blood pressure, and can also reduce the chance that you could be admitted to hospital due to illness or accident. It can improve your strength, flexibility, balance and stamina with the convenience of exercising in your own home at a time that suits you and at a pace that suits you."
The HowFit Plan provides the user with a range of exercises divided into four categories; 1.mobility, 2. strength, 3. cardiovascular health and 4.stability, balance and co-ordination – with videos and animations on the website to demonstrate how the exercise is carried out. Dr David Jones, a GP in Newcastle and Clinical Chair of NHS Newcastle Gateshead CCG said: "Though it might be tempting to skip on exercise in these challenging times, it is essential for our physical and mental wellbeing.
"By carrying out the HowFit exercise programme a few days a week it can improve your mental health and wellbeing so it is important that we all make exercise as part of our daily routine."
The HowFit information leaflet will be distributed to households across Gateshead, Newcastle and North Tyneside from the 5th October 2020. www.howfittoday.co.uk.
North Tyneside Good Neighbours and Age UK- Covid 19 Response
DO YOU NEED HELP? if you need help due to the Covid-19 crisis call the North Tyneside Council COVID-19 Response Team on 0345 2000 101
CAN YOU HELP OTHERS? if you are able to help others, please contact VODA's Good Neighbour; Josie.Robinson@voda.org.uk 0191 6432632
Age Uk- can help if you are self isolating and have no support in place from family,friends or neighbours click on link for further information North Tyneside Age Uk
Feeding Families UK
Feeding Families is about bringing communities together. In these challenging times when families struggle to make ends meet, we link donors to families who need help and everyone gains! Sometimes we can feel that the little we can do will have no impact but we know that giving a food hamper, especially at Christmas, can make a huge difference.
Based in the North East of England, we began through one family helping another, but now we also accept donations from businesses, schools, colleges, groups of friends, churches and many more and pack and distribute these gifts to the people who need them most.
They are now accepting applications to receive a Christmas hamper. More information