Important Information regards Corona Virus
The surgery is no longer booking face to face appointments, all appointments will be made by telephone. The doctor/nurse will call patients first and then make a decision if the patient needs to come down to the surgery. The practice would appreciate if patients can be understanding towards staff during this difficult period as it is the safety and welfare of both staff and patients to minimise the spread of infection.
Please do not ring to check prescriptions are ready or to order early as we are not issuing medication early to prevent stockpilling. Please show consideration to those patients that need medication. The surgery is not doing fit notes for isolation period please visit the NHS 111 online to download a isolation note.
The surgery is extremely busy so we would appreciate if you can take into considerations what you are calling the surgery for, if it can wait and is not urgent or is the information available on our website or can be done through eConsult and you can wait for a response the Doctors and staff at the surgery would appreciate it during this challenging time.
Please think sensibly before ringing the surgery and please be kind to staff as we are extremely busy. For all advise on Covid-19 please do not ring the surgery visit NHS 111 online.
Welcome to Bewicke Medical Centre
Bewicke Medical Centre has around 10.000 patients on their list and covers the Howdon, Willington Quay and Part of Wallsend area. The surgery has 6 partners and 2 salaried GP's. The surgery is also a training practice and has 2nd year foundation doctors and 3rd , 5th year medicals students each year.
We are confident that our website will provide clear and concise help and give our patients the information they require in an easy and convenient format. It has been designed with the patient's needs at the forefront of everything, from checking surgery times to letting us know what you think of us.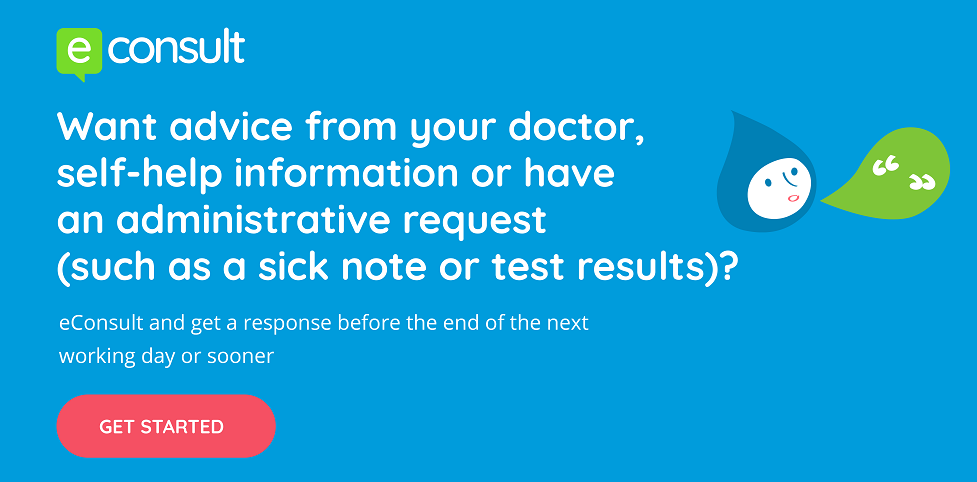 To Order a Repeat Prescription online
To request a repeat prescription online click on the Prescription Icon above and select order online option. For fitnotes you need to self certify for the first 7 days and if you are still unwell you can then order a fitnote via eConsult below. Repeat Medication requests can not be ordered via e Consult. You cannot order medication via e Consult this is only for Fitnotes
North Tyneside Good Neighbours- Covid 19 Response
DO YOU NEED HELP? if you need help due to the Covid-19 crisis call the North Tyneside Council COVID-19 Response Team on 0345 2000 101
CAN YOU HELP OTHERS? if you are able to help others, please contact VODA's Good Neighbour; Josie.Robinson@voda.org.uk 0191 6432632
Coronavirus Information
Latest Updates:
Call 111 if you have travelled to other parts of northern Italy (anywhere north of Pisa, Florence and Rimini), Vietnam, Cambodia, Laos or Myanmar since 19 February and have a cough, high temperature or shortness of breath. Or have been in close contact with someone with confirmed Coronavirus.
Lockdown parts of Italy:
in Lombardy: Codogno, Castiglione d'Adda, Casalpusterlengo, Fombio, Maleo, Somaglia, Bertonico, Terranova dei Passerini, Castelgerundo and San Fiorano
in Veneto: Vo' Euganeo

For travel advice foreign-travel-advice
The NHS in England and Public Health (PHE) are extremely well prepared for outbreaks of new infectious diseases. The NHS has put in place measures to ensure the safety of all patients and NHS staff while also ensuring services are available to the public as normal.
The risk to the general public is moderate. If you have arrived back to the UK from mainland China, Thailand, Japan, Republic of Korea, Hong Kong, Taiwan, Singapore, Malaysia or Macau within 14 days, follow the specific advice for returning travellers.
Call 111 now if you've been
to Wuhan or Hubei Province in China in the last 14 days ( even if you do not have symptoms)
to other parts of China, including Macau and Hong Kong, in the last 14 days and have a cough, high temperature or shortness of breath (even if its mild)
to Thailand, Japan, Taiwan, Singa pore, Republic of Korea or Malaysia in the last 14 days and have a cough , high temperature or shortness of breath (even if its mild)
in close contact with someone with confirmed coronavirus
Do not go to a GP Surgery, Community pharmacy or Hospital. Call 111, stay indoors and avoid close contact with other people.
Further information is available on NHS.UK