Patient Participation Group
The Aims of the Patient Participation Group
Our patient group meets every 12 weeks and provides an opportunity for our patients to influence the way we do things at the surgery
Anyone interested in joining the group should speak to our manager – Charlotte West.
We are always looking for new members.
Click on the link below to read our Patient Group profile: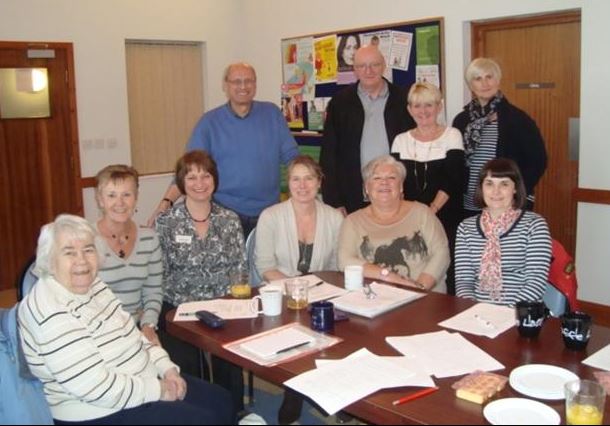 Patient Practice Group Signup
Patient Practice Group Contact Form
Patient Practice Group Minutes Archive
Virtual Group
We also have a Virtual Patient Group of over 500 members. The surgery will contact the virtual group members approximately 3 times a year covering various topics linked to the action plan. This may include surveys etc.
If you would prefer to be part of the virtual group please click on the link opposite and complete the form.
You Said , We Did - Feedback
2018
YOU SAID

WE DID

2018

The only thing which I find a bit unusual is the very long explanation at the start of the answer to the call

We have introduced a new telephone system in November 2018 and we have looked at the information and message options. A call queuing option has also been introduced and we will be able to change information on the phone system more easily to be able to keep patients more informed..

November 2018

Mandy is amazing but she could do with more help as it is hard to get through to scripts.

We appreciate that it can be frustrating waiting to get through to order the repeat prescriptions, however we are encouraging patients to join patient online services so they do not need to ring and can order prescriptions over the internet 24/7. We are also looking at patients who take regular medications going over to Repeat Dispensing service, which would mean that patients do not need to order every time the medication runs out; Prescriptions would be sent to the pharmacy for a set period 6 months before patient would need a medication review.

Ongoing- 2018

Very hard to book appointments for the 2 days ahead period can book same day or 4 weeks ahead, but asking for an appointment say week is always hard.

Have tried loads of time to book online at 8am on the day but no appointments.

We are sorry you feel this way ,as advertised in our waiting room 80% of our appointments are now available online for patients to book up to 4 weeks in advance. We hold only a few appointments to release on the day for emergencies and also offer a duty doctor triage service if patients feel it is urgent. The demand for appointments continues to be high therefore appointments do go very quick and are often booked well in advance leaving only the appointments to be released on the day.

The practice still continues to provide more appointments per patient in comparison to other practices in the North of Tyne Clinical Commissioning Group.

We are now part of the Extended hub which offers appointments in the evening and also over the weekend. Please ask at reception or visit our website for information.

We are also trying to promote to patients Self –Care as the doctors recognise that some of the patients seen could make use of the local pharmacy or NHS Choices and do not necessarily need to be seen by a GP for very minor conditions.

Call Centre for booking more resources to meet the increased demands.

General practice provides the majority of health care for the NHS and GPs are the gateway for patients to access other NHS services. As such, general practice bears the primary impact of the increasing demand for healthcare. However patients do not necessarily need to be seen by a GP for very minor conditions but do contact the GP Practice often when there are lots of other options available, Self Care NHS England, Local Pharmacies, and NHS 111.

For many years GP surgeries has received less additional funding ourselves included, and lower increases in GP numbers compared with the other medical workforce in community or hospital-based care.

GPs' work is becoming more challenging because of the ageing demographic, the rising complexity of medical conditions, initiatives to move care out of hospitals.

Workload has increased substantially in recent years and has not been matched by growth in GP practice funding or in workforce. These are widely recognised pressures also faced by the Bewicke Medical Centre and unfortunately we are not in a financial position to increase resources at present. We will continue to look at the appointment system and identify if we can make improvements.

Water in the waiting room for patients.

We have carried out some research and got quotations from various companies, however due to cost this will not be a priority for practice. However patients can ask reception for water if they require. We are looking to make other improvements to the building such as decorating and new doors.

April 2019

Please can we have one day a week where we can just pop in and don't need an appointment to see a doctor or nurse. Like just take a ticket and wait your turn after checking in.

The demand for appointments is extremely high. The practice currently offers approximately 1000 appointments per week, we also operate a duty doctor triage service. The duty doctor can deal with on average 50-60 additional patient triage calls per day. Unfortunately due to the high volume a just pop in and wait service would not be efficient or effective for the practice or the care for patients, as patients could potential wait long hours to be seen and the Doctor may not be able to get through the volume of patients in this time.

Instead of being kept on hold why not just have an engaged tone.

The new phone system has now a queuing option and this allows the patient to make their own decision whether they wish to wait in the queue or call back at a later time.

November 2018
2017
YOU SAID

WE DID

DATE 2017

Appointment often run late over patients appointment time

There have been occasions recently that out surgeries have run late. This has been due to the high demand on our appointment system. There are number of reasons why this may happen and sometimes this is down to an emergency.

The practice has taken on board this feedback and is keen to try and address some of these issues. They have introduced a project team to review the appointment system regularly to ensure patients are getting the best from the surgery. We appreciate how frustrating and inconvenient this must be, please accept our apologies for this. To try and improve the situation we have changed the structure of our appointment sessions there will be 15minute and 10minute appointments. We hope the change will help patients and reduce the waiting times as in the 15minute appointment patients will be able to discuss more than one condition which should reduce the need for further appointments. We will continue to monitor the situation.

Oct 2017

The system for making appointments in the morning are not very good you have to try over and over again to get through.

We appreciate our currently phone system is no longer fit for purpose in terms of the volumes of calls that come through to the practice. As with any new systems the practice has to consider costs. We have been reviewing a number of different phone options which should see patients having the option of a queuing system then they patient can decide whether they wish to wait or try again later. Unfortunately we are unable to predict the volume of calls, however we have increased the number of staff available to answer calls at peak times.

New phone system to be installed 2018

To put appointments on the day available online.

80% of our appointments are now available online for patients to book up to 4 weeks in advance. The demand for appointments continues to be high therefore the online appointments do go very quick.

October 2017 increased number of available appointments online.

You always have to wait for routine appointments and would like to be able to make an appointment 2-3 days in advance.

As mentioned previously we have increased the number available to book online and you can still book up to 4 weeks in advance.

The practice still continues to provide more appointments per patient in comparison to other practices in the North of Tyne Clinical Commissioning Group.

We are now part of the Battlehill hub with offers appointments in the evening and also over the weekend.

We are also trying to promote to patients Self –Care as the doctors recognise that some of the patients seen could make use of the local pharmacy or NHS Choices and do not necessarily need to be seen by a GP for very minor conditions.

October 2017